Partners
Our Fun Partners Will Guarantee Your Event Is Special.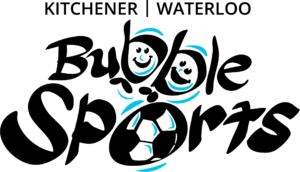 Welcome to K.W Bubble Sports, proudly one of the first Bubble Sports organizations in Ontario. K.W Bubble Sports guarantees a lot of laughter and a lot of bumping, bouncing, rolling and memories to last a lifetime!
We provide the venue, bubble suits, referees, goals, music, refreshments etc…you provide the laughter, moments, and insane fun! At K.W Bubble Sports, it's all about the experience. We are a customer-focused organization, aiming to meet and exceed your event expectations. All of our referees are qualified and trained to make your event exciting and fun while keeping it safe. We have two party areas and various size bubbles for all types of parties! Book online now, and get your bounce on!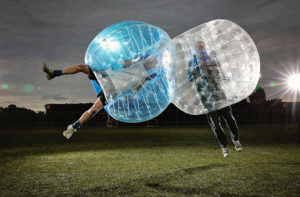 "Bubble ball rental, delivery, and set-up also available – rates vary depending on the number of balls, location, and length of rental."
The Chuckle Gang Entertainment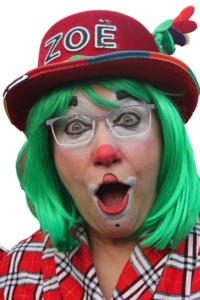 Good day! My name is Arlene Penlington and owner/operator of The Chuckle Gang Entertainment. Below is a description of my services starting with Zoë the Clown. I hope you find it helpful. Please contact us for more information, to share ideas and/or to book an event.
Armed with a suitcase of playful disorder, magic and delight, Zoë the Clown tickles funny bones wherever she goes. Theatrically trained she has spread laughter at family events for over 20 years. To name a few, Zoë uses magic, juggling, puppetry, and more whether performing on stage, strolling in a crowd or playfully engaging her audience at a birthday party. Her talents also include face painting and balloon sculptures.
Here is a description of her most popular birthday program. It comes in three parts and may be customized. Upon arrival Zoë greets everyone and presents the birthday child with a giant rainbow balloon hat in honour of their special day. She then gives each of the children a balloon sculpture of their own. Secondly, Zoë performs a family centred comedy show involving magic, juggling and music with audience participation creating double the laughs. Face painting is the third part of the program usually placed at the end. It is a one to one activity thus allowing the parents to lead into other activities they may have planned and/or allowing the children some free time to play with each other while waiting to get painted.
* As a recent graduate of the Expressive Arts program at Fleming College new ideas for workshops are ongoing.
For more information or for bookings contact us today!